Tommy Bartlet Show - Ski Sky Stage Show in Wisconsin Dells
Shows & Entertainment: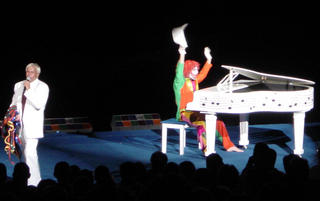 About this Show & Dells Attractions:
Tommy Bartlet show is one of the top shows in Wisconsin Dells hands down.
This show is full of great comedy, lots of laughs, a clown that's actually funny, ski stunts, acrobatics, juggling and much more. Since the 1970's this show was a hit and is one of the big reasons as well as the waterparks for the huge expansion that has occurred over the many years. This 90 minute ski sky and stage show on Lake Delton is a lot of fun for people and kids of all ages. Entertainment is what the Tommy Bartlets show is all about!
New in 2009 was Dave the Horn guy who gained fame from Americas got talent playing 25 precisely tuned bulb horns with every part of his body.
Water Skiing acrobatics and boat stunts.
Stunt artists balance and perform tricks inside and outside a 65ft high wheel as it rotates end over end. This wheel of destiny as they call it looks a bit dangerous to me.
Juggling with torches, chain saws, bowling balls and more.
Water skiing Clown for fill in time and comedy throughout the show- this guy is one of the funniest parts of the show.
Man carrying kite or glider launched from boat then glides back.
Hula hoop twirling.
Performing acrobatics dangling high above the stage.
In the evening the Tommy Bartlets Show puts on more entertainment by putting on a great laser light and pyrotechnics show. Hard to describe so you will have to see it yourself. Open from May to September (see Tommy Bartlet website for exact dates) 2010 Prices(Adult, Kids 6-11, Senior) General Admission - $16.00, $9.00, $12.80 Deluxe - $20.00, $13.00, $16.80 Reserved - $23.00, $16.00, $19.80 Children ages 5 & younger are FREE if held on an adult's lap.
Entertainment Show Reviews:
Having been there myself multiple times over the past 10 years I have never seen anything but a spectacular show. Tommy Bartletts show has been polished through out the years and is nothing but a top act. One thing to consider if you are going is to be sure to get there and if possible park closest to the exit as well as try to beat the rush at the end of the show as traffic is horrendous when trying to leave.
Location
Tommy Bartlet Show
560 Wisconsin Dells Parkway
Wisconsin Dells
,
WI
View our Photos Gallery for this Wisconsin dells attraction:
608-254-252
Location
Javascript is required to view this map.